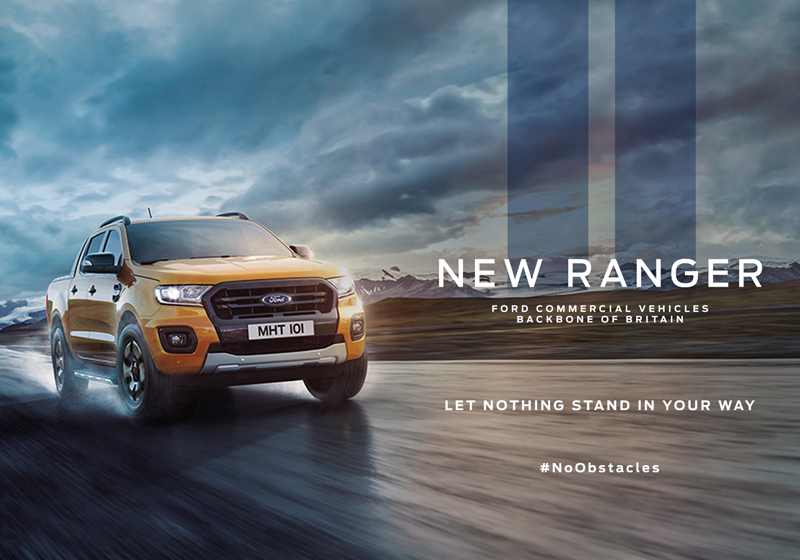 New Ford Ranger
New Ford Ranger
Overcome anything with the New Ranger Wildtrak . Featuring a powerful Bi-Turbo EcoBlue Engine and 3.5 tonnes of pulling power.
Works smarter and harder
The New Ford Ranger is purpose built to get the job done and has more technologies than ever before Europe's number one selling pick up helps you work smarter too.
Advanced systems, including Traffic Sign Recognition, Lane Keeping Aid and parking sensors, all increase your awareness and boost your confidence on the road. Whilst Hill Start Assist, Hill Descent Control and Active Park Assist help keep you in control.
Built for Toughness. Crafted for Comfort
Advanced engineering and the highest quality materials deliver an interior that's as tough and hardwearing as it is comfortable. For the first time, the New Ford Ranger is available with a built-in Ford Pass Connect modem too. This technology enables you to remotely lock and unlock your vehicle, receive live traffic updates, connect to a WiFi hotspot and it makes owning a Ford better than ever!
Power, Efficiency and Refinement
Designed to work harder and more efficiently. The pickup has a range of powerful new engines engineered to help make every drop of fuel go further. And they've been paired with an advanced new transmission that seamlessly adapts to changing conditions and terrains. With a range of useful technologies, including Auto Stop-Start and an on-board trip computer, this is a rugged pickup that effortlessly combines brains and brawn.
Advanced Safety Technology
The New Ford Ranger incorporates a smart range of systems to help protect you, your passengers and other road users. Some technologies, such as Pre-Collision Assist, work to reduce the likelihood of an incident occurring in the first place. Others, including airbags, help reduce the severity of a traffic incident should one occur. The vehicle's fitted with advanced security systems too, giving you peace of mind when storing your tools or cargo.
Quality you can depend on
When it comes to the New Ford Ranger, the numbers speak for themselves. The pickup has a carrying capacity of 1 tonne and can tow up to 3,500kg. It has a ground clearance of 237mm and effortlessly wades through water up to 800mm deep. In fact, every aspect of the award-winning vehicle has been precision engineered for versatility, reliability and capability.
Call Jonathan or Steve today on 01953 601602 for more information
www.abbeygatecars.co.uk/new/ford/new-ranger
Latest News
30-04-2022
TREAT YOURSELF to a brand new Ford Kuga Titanium Edition 1.5L EcoBoost 150PS…
Read more >
19-01-2022
We invite you to our Wymondham showroom where we have a great selection of New…
Read more >