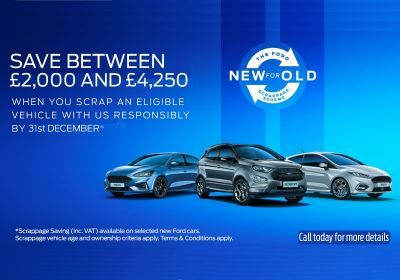 Scrappage Scheme Save Between £2,000 & £4,250
You can save between £2,000 and £4,250* off a new Ford car when you trade in your old vehicle for a selected new Ford vehicle with the New Ford Scrappage Scheme. You can have peace of mind that Abbeygate will manage the scrappage of your old vehicle responsibly.
If your vehicle was registered before the 1st January 2013 and you have owned it for over 90 days, you could be eligible for our Scrappage Scheme savings towards the purchase of selected new Ford vehicles.
Contact Jonathan or Steve today on 01953 601602
Choose your perfect Ford Car
Book your test drive
See how much you can SAVE
SAVE BETWEEN £2,000 and £4,250* on a New Ford Car
OFFER ENDS 31st DECEMBER 2019
Click here for further details: https://www.abbeygatecars.co.uk/exclusive/the-scrappage-scheme-is-back/76430
*T&C apply
Latest News
30-04-2022
TREAT YOURSELF to a brand new Ford Kuga Titanium Edition 1.5L EcoBoost 150PS…
Read more >
19-01-2022
We invite you to our Wymondham showroom where we have a great selection of New…
Read more >